Independence C120h 3D Puzzle 43 Pieces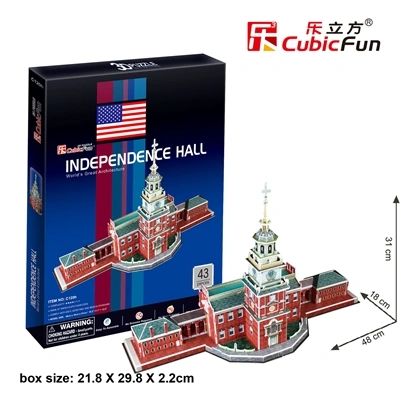 Independence C120h 3D Puzzle 43 Pieces
Independence Hall, a World Heritage Site, was built in Philadelphia between 1732-1753.Both the US Constitution and the US Declaration of Independence were debated and adopted in this red brick building. The famous Liberty Bell was once housed in the168 ft steeple which is part of the structure. Today, Independence Hall is the centerpiece of a national historical park in Pennsylvania.

This 3D puzzle is part of the Word's Great Architecture series, of which the MC collection is known for extensive attention to detail and amazing realism. The original building's history is shown in one leaflet, and another illustrated guide is included to help with assembly. During assembly, details of structure and support are shown, and the various stages of assembly follow the path of construction.

The experience is engrossing and interesting, with participants exercising manual and intellectual skills while seeing a beautiful building complex rise before their eyes. Sequencing, spatial manipulation, weight and load bearing properties, and many other facets of real-world construction are invilved in this entertining creative experience.