Taj Mahal MC081h 3D Puzzle 87 Pieces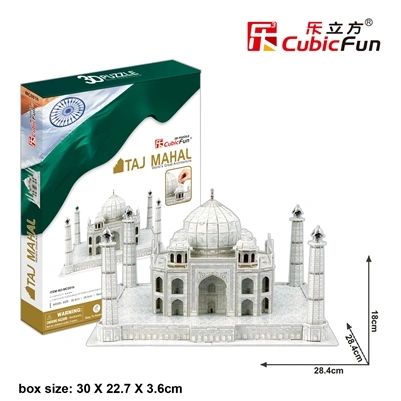 Taj Mahal MC081h 3D Puzzle 87 Pieces
Along the banks of the Yamuna river in the city of Agra, India, is a mausoleum made of white marble.Commissioned in 1632 as a memorial for the emperor's favorite wife, the building is known worldwide by its familiar name, the Taj Mahal.

This fine example of Mughal architecture is a gem of Muslim art in India. The domed tomb, with its arched facade, flanked by spacious gardens, is a familiar image. This 3d puzzle from the World's Great Architecture series' MC collection, has exceptional detail and realism.

Building the scale model initiates one in the structural supports and building sequence. Proper assembly is aided with an illustrated guide, and knowledge of the original can be found in an illustrated historical leaflet.

The finished puzzle is a beautiful reminder of the challenges met while learning and building. Immersion in the activity is pleasant and can help improve related skills. See the Taj Mahal come to life in its opulence and glory at the touch of your hands. Explore the halls and gardens, walls and courts. See the beauty of India's architectural crown jewel.